Hazen's Delight
Situated in the North West corner of Franklin Township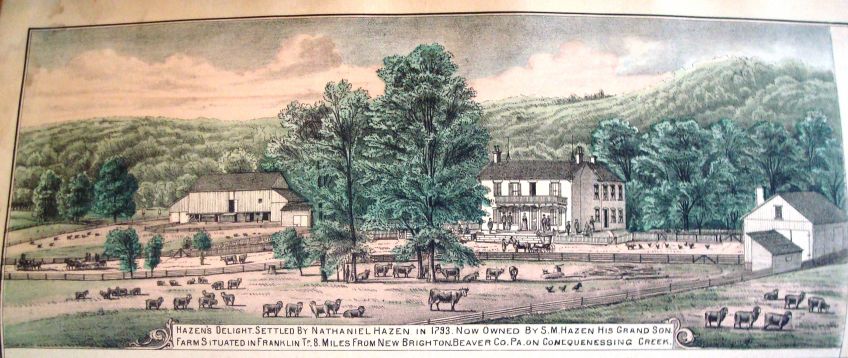 Caldwell's Illustrated, Historical, Centennial Atlas Of Beaver County, Pennsylvania, 1876

Hazen Delight House located on Route 65 (just South of 288) across from Quick Fill
---
THIS HISTORY OF "HAZEN'S DELIGHT" IS A WORK IN PROGRESS

The "Hazen's Delight" property was first Patented to Isaac Hazen on Jan 12, 1805 and contained 393 acres and 32 perches; situate on both sides of the Connoquenessing Creek. However, there is no proof that Isaac ever settled on the property. This Isaac Hazen was more than likely the son of Nathaniel & Mary (Bell) Hazen.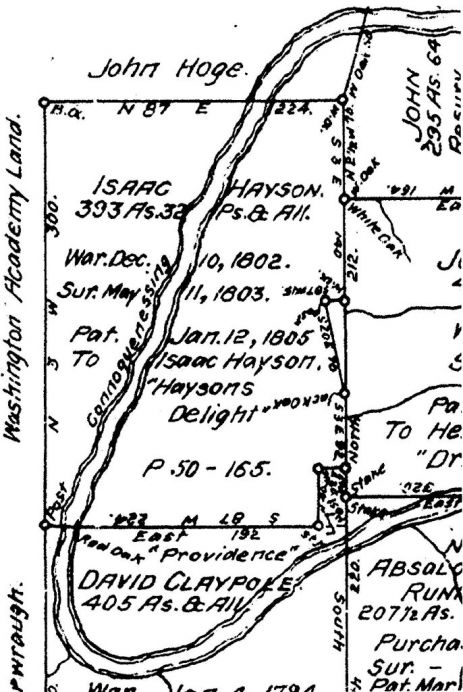 On March 24, 1806, Isaac conveyed 208 acres & 50 perches of "Hazen's Delight" to his father Nathaniel, son of John & Deborah (Peck) Hazen. Nathaniel Hazen is known to be the first to settle and clear the land at Hazen's Delight. During Jan 1821, Nathaniel conveyed 115 acres of "Hazen's Delight to his son Samuel, who later conveyed this property to his son Smith McDanel Hazen.
On August 9, 1815, Isaac conveyed 98 acres of "Hazen's Delight" to his brother James Hazen. James and Jerusha (Runyan) Hazen's son, Joseph, was the founder of the Hazen Mills on the northern part of the original "Hazen's Delight" tract.
---
Hazen's Delight can be seen on this 1876 map with Smith McDanel Hazen as the property owner.
Joseph Hazen's Grist & Saw Mills can be found to the North.