Phillis Brothers General Store and Post Office
Fombell PA
The Fombell Post Office began during 1882 in the home of Joseph Phillis IV and Victoria Magdalena Fombelle, with Joseph being the first Postmaster.

"Lena" was the daughter of Alexander Fombelle & Rebecca Magaw.

Alexander Fombelle had built this house in 1829. The Fombelles moved to New Brighton in the 1860s and Lena was one of the very few of her family who remained in the Fombell area. 

The Phillis Brothers General Store was built in 1890 by Omar and Frank Phillis, sons of  Joseph & Lena (Fombelle) Phillis. Just after 1900, the Post Office was moved from the house to the store. Omar's wife, Louise McLure, was the first Postmistress.
The store's ownership passed in 1929 to Omar & Louise Phillis' sons Joseph & Thomas. Joe ran the business, while Tom remained a silent partner. However, Tom did pitch in from time to time. They continued operation of the store and Post Office until July 4, 1972 when the store closed. The Post Office remained until 1974 when it was relocated to Moncrief's Store and then in the early 80's to a new facility on Route 288. That Post Office is now closed and ironically is the Fombell General Store. 
A Phillis family member served as Fombell Postmaster every year from 1882 until 1972 when David Benn was hired as Postmaster.
The building has been used for various businesses since the Phillis Brothers closed their store in 1972, but today, the store is a private residence.
Harry Kramer, Director of Camp Kon-O-Kwee, did re-open the store in 1973

under the name "Fombell General Store."

It was a treat for the campers to visit the store to purchase a treat and Mr. Kramer wanted to continue that tradition. Unfortunately, it wasn't open for very long.
The same for Bob & Lynda (McKinney) Lambert and Bill Perza who opened the store in Oct 1981.

We do know that other businesses were located in the building over the years, such as a Pizza shop. If you have further info regarding any of these businesses, please let us know. We would also be interested in getting copies of photos of the store during any time-period.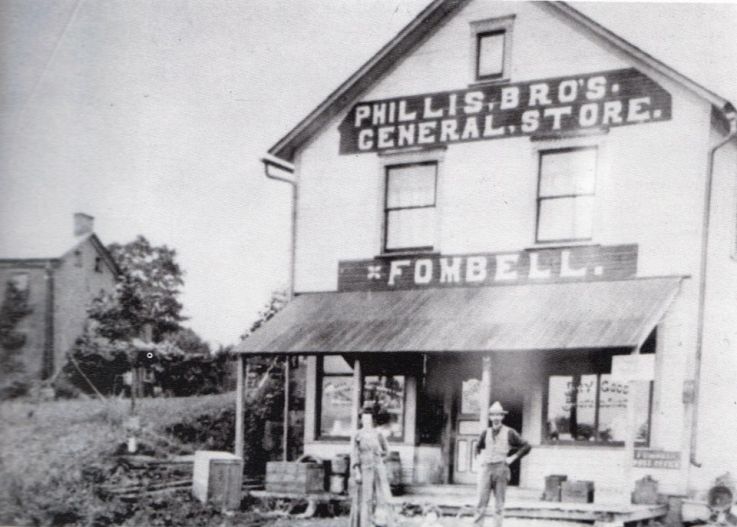 (Photo courtesy Little Beaver Historical Society, Darlington, PA)
Alexander Fombelle house can be seen to the left.
Believe the couple to be Omar & Louise (McLure) Phillis.

---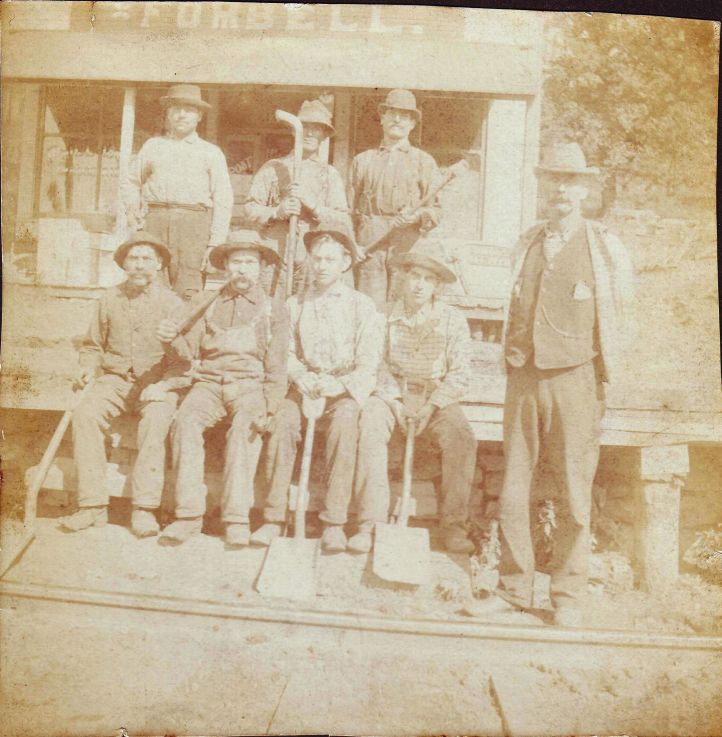 Workmen in front of Phillis Store. Can you identify anyone?
---


First fuel tank at Phillis Store. Can you identify anyone?