Fombell

Named for

early settler

s, Lucian and Gabriel Faure de Fombelle from France.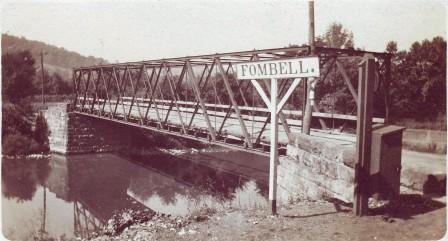 Fombell Bridge Built About 1880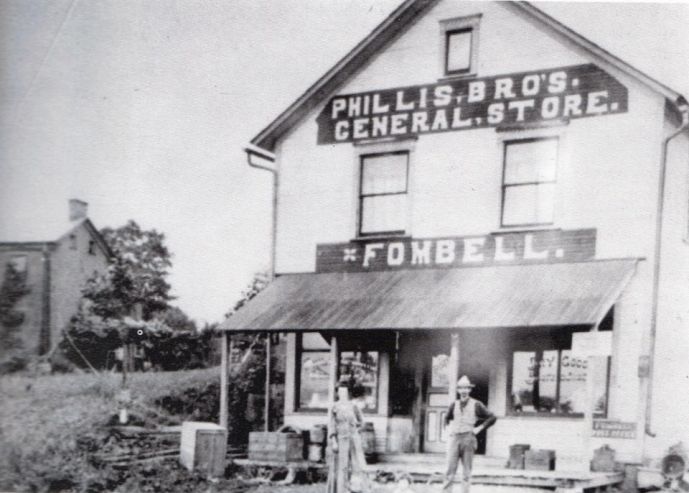 (Photo courtesy Little Beaver Historical Society, Darlington, PA)
Phillis Brothers General Store built in 1890 by Omar and Frank Phillis, sons of Joseph Phillis IV and Victoria Magdalena Fombelle.


L

ocated along the Connoquenessing Creek in Franklin Township

, Fombell officially began in 1882 with the creation of the Fombell Post Office. It is not known why the "e" was dropped from the name or how long prior to 1882 the area may have been called Fombell. 
The boundaries of Fombell in 1882 are not clear.

The assumption is that the original Fombelle owned land in Franklin & Marion Townships was considered Fombell.

Certainly at that time it was a stop on the railroad between Zelienople and Ellwood City where the Fombell Post Office and Phillis Brothers General Store were located.

Today, it encompasses the 16123 Area Code and is located in three Townships in two Counties. No wonder nobody outside of the local area is quite sure where Fombell is! Even some of the locals aren't sure!!

2014
---
Parts of:

Marion Township, Beaver Co., PA
Franklin Township, Beaver Co., PA
Perry Township, Lawrence Co., PA